People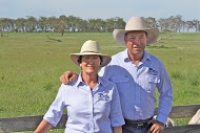 Rick and Julie Gates
I currently hold the reins of Gates Performance Genetics. After spending almost all of my life breeding and working with sheep, cattle, dogs and horses, both stud and commercial and working with some of the best people associated with livestock production I find myself in the challenging job of positioning Gates Performance Genetics at the forefront of the beef and sheep meat seedstock industry. Sam and I work together with all aspects of the day to day running of "EAST MIHI" and with the sourcing, assessing and acquiring new genetics to be used within the studs. This involves regular trips within Australia and overseas, database searching and frequent conversations with industry researchers and fellow stud breeders.
Julie, currently works off farm as a sales rep in the food industry and also performs peace keeping and office duties at "East Mihi". Julie also helps out at critical times at field days, sale time, and with shearing and drought feeding.
We believe in # PERFORMANCE DRIVEN PROFIT #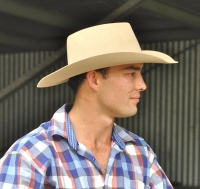 Sam Gates
Finished HSC in 2008 and received entry into the University of New England. This degree was defered for 1 year where I went north in search of some experience and adventure. This landed me with Horizon Contracting where we were primarily based at Moola Bulla Station, Halls Creek. After returning back from WA/NT I went on to fill in the rest of the year shearing and working as a shed hand around the New England. 2010 saw me start my Bachelor of Economics and further graduated in 2013. Since this time I have been contracting around the New England, working for the Angus Sire Benchmarking Program and assisting within the stud. Stud duties have entailed everything from weighing lambs at birth to obtaining semen from New Zealand and meeting with a wide range of studs breeders around the country. I look forward to the stud progressing and bringing new things to the table, especially through our Maternal Composite sheep program, a new concept in prime lamb production.